Trinity is waiting to greet you at any and all of our worship services:
Sunday School 10:30 am.
Sunday Morning Worship 12 noon
Bible Class 2:00 pm. each 2nd and 4th Sunday
Other services as announced
Contact Us:
Trinity Resurrection United Church
9046 S. Mackinaw
Chicago, Illinois 60617
(773) 768-9645 Fax (773) 768-7280
Use the form below to contact the ministry.
There is much work to be done but few to do service. Luke Chapter 10 verse 2 KJV: ~~Therefore said he unto them, The harvest truly is great, but the labourers are few: pray ye therefore the Lord of the harvest, that he would send forth labourers into his harvest. There is a need for laborers in the field of life that can not only inspire but thse that can inspire to greatness. Those that can show others there is a joy in coming to Christ. Why not consider being a laborer?

You may ask what can you do and how you can do it? Just by right living. Love and appreciate others; help those in need, inspire those without hope, comfort the depressed and show them there is joy in serving Jesus. Show others that they can be happy. Show kindness giving others a hand up when they are in need. These are all the works and many more that Jesus did while he was here on earth. Turn the can't make its into I can make it. Choose one day each month or each week and make it your Harvest Day. Help or encourage just one on that day and watch others become upifted by your act of kindness no matter how great or small.

Lets remember to keep those on our prayer list, the sick and shutins held up in prayer for the prayers of the righteous availeth much.
A special shout out to all who made our
Trinity has things going on!
​
A special shout out to those that participated in our 1st annual Own the Runway. A great time was had by all. Congratulations to all our winners. Sports Attire: 1st Place Deaconess Eva McMiller; 2nd Place Nathan Stephens. Casual Attire: 1st Place Suzzette Ruffin; 2nd Place Rasheeda Anderson. KickUp and Stylish: 1st Place Rev. Dr. C. L. Davis; 2nd Place Bishop Donald Hubert. Shabby Chic: 1st Place Minister Shirley Davis; 2nd Place Carmen Davis. Star Performer: Pretasha Groom. Congratulation to all winners.
Seeds dropped for encouragement:
Remember in the words of a previous sermon delivered by Pastor Shirley; "You can't do anything about your past;but your future is a different story."​
A special invitation from Pastor Shirley and the entire congregation to celebrate with us on the 1st Sunday in Novemeber for the birthday of our Senior Pastor Rev. Dr. C. L. Davis. Let him see your face in the place at morning worship and the pastorial dinner and 3:30 pm. worship. Come out and spend the day with pastor as he celebrates his 96th birthday. In the words of Pastor:
Become a PIA - "Praise in Action" partner today by supporting Trinity and it's missions. Trinity is a 501 c 3 organization and all donations are tax-deductible
We are always trying to support our ministries through fundraisers, get-togethers, and community outreach programs. Check below for a list of upcoming events. Come back often as our list is updated regularly.

Join our funding initiative on

Go Fund Me!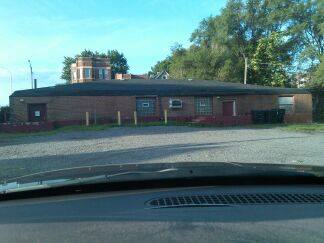 Our campaign title is:
"Up From The Basement"
https://www.gofundme.com/trinityruc Go to the site to donate to our new building drive.
People have asked why we don't stop many of our programs and focus our support on getting another building. Our answer is that help has no look or description it just has requires a need. There are hundreds of stories from those that have received help from our church known as the church in the basement. In other words we may not look like much, but what we do is priceless!

We would be amiss in our mission and duties not to provide that help. In other words need comes before want. While we do NEED a building the needs of the many hurting people must be addressed.
The Ola M. Davis Memorial Food Pantry is open each Wednesday 8:30am - 10:30 am. In need of food? We are here to help! We also carry baby food through our Care Babies Program that is available during food pantry hours along with baby supplies when available. Help Us Help You.
All our Ministry Helps Programs are here for you! Visit our About Us page for more information.
Community Forum
The "2018" LIHEAP program will begin on Monday October 2nd. However there are still available Fuel Funds programs in operation. All clients that are income eligible can apply.
The Peoples Gas "Share the Warmth" assistance is still underway. The ComEd "Hardship" program has now closed for the current year. The program is open to all income eligible individuals. Applications for these programs are taken each Tuesday and Wednesday weekly 9am - 1pm.
The required documents you will need to bring for all programs is all social security cards for each individual residing in your household, Picture ID for Head of Household. Income for your household for the previous 30 days to application date, and your current gas both sheets and light bills, along with any disconnection notice you may have. Make sure that the issue date on your bills are within the previous 30 days because all bills must be current. In ddition mke sure your current award letters from SSA/SSI refects you monthly 2017 payout amount.
Also note that the Weatherization program and Furnace programs will also begin on October 2nd for the 2018 program year. Monitor our site for upcoming information concerning their restart. Call the church for additional information 773-768-9645.
Beginning October 2nd our hours of operation are: Monday-Friday 9am to 4 pm. We take our last walk-in client at 1pm daily.
Household eligibility income guidelines by program:

| Size of Household | LIHEAP | Share the Warmth | ComED HardShip |
| --- | --- | --- | --- |
| 1 | $1,508 | $1,980 | $2,512.50 |
| 2 | $2,030 | $2,670 | $3.383.33 |
| 3 | $2,553 | $3,360 | $4,254.17 |
| 4 | $3,075 | $4,050 | $5,125.00 |
| 5 | $3,598 | $4,740 | $5,995.83 |
| 6 | $4,120 | $5,430 | $6,866.67 |
| 7 | $4,643 | $6,121 | $7,737.50 |
| 8 | $5,165 | $6,815 | $8,608.33 |
Liheap application dates:
Priority Period 1 - October 1:
Households with a senior member age 60+ or Households with a person receiving Social Security Disability Benefits
Priority Period 2 - November 1
Households with one or more disconnected utilities or Households with children age 5 and under
Regular Application Period - December 1
Available program benefits open to all eligible low-income households
​
Plans and collection has already started for our bi-annual homeless outreach.
​
Twice per year we reach out to distribute care bags to the homeless of Chicago. Our Good Friday outreach was able to service many homeless individuals living under bridges, abandoned buildings, and lower Wacker Drive. Our Christmas outreach is fast approaching help us make it a great success.Join our caravan of love. This years caravan will go out on December 10th at 2pm. no matter the weather conditions we will still journey out to bless others in need. Donations are accepted at the church.
If you don't have a church life develop a prayer life, Join us each Wednesday in our unified prayer no matter where you are at 9 pm
Thanks to Fellowship Ministry of Praise for providing music for our page!